Gemini Systems is delighted to announce that it has received official certification from Ford of Britain for its' REACT! 2.4 Interface.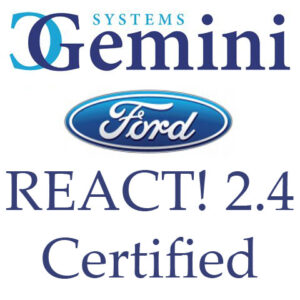 Certification means that all Gemini Systems' Ford clients running Evolution DMS or Evolution DX will be able to take advantage of a certified link to the very latest version of Ford's REACT! programme, with all required data being sent to Ford Automatically.  This latest certification builds on a very strong working relationship with Ford of Britain and its' dealer network. Gemini Systems remain the leading supplier of DMS to the Ford retail network in the UK and its dealers can take advantage of multiple manufacturer interfaces such as
OWS, BCM, Ecat, SARA and FSA
. Gemini systems also provide its dealers with Ford approved features such as a fully integrated
e-check (eVHC) system with Video Reporting
to ensure that they are always compliant and meet their dealer standards. For more information please 
Contact us Here
 or call us on 01522 698 911.