Gemini Systems is delighted to be named as Best Dealer Management System for the 3rd year running.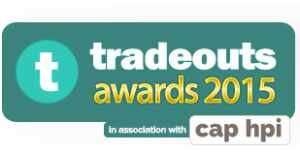 Simon Harrod, Gemini Systems Managing Director, commented 'It's great to win this award for the 3rd year in a row. What makes the achievement special is that the winner is voted for by actual dealers across the whole spectrum of the automotive industry. The winner isn't decided in a meeting room somewhere and that gives the honour great credibility. The award is in association with CAP HPI and is voted for by UK Franchised Dealers and users of Tradeouts.com, the trade-only network for the dealers of cars and commercial vehicles. This prestigious award is recognition from a cross-section of automotive industry professionals, who understand the value of products and services that they require to support the modern dealership. Harrod said – 'To win the award 3 years running is a testament to the continuing hard work and dedication of our team to go 'Beyond the DMS' and Deliver the best 
value
 Dealer Management Systems to the automotive industry, harnessing the 
latest digital technologies 
to provide dealers with 
greater profit opportunities'
. We're gaining quite a collection, we'll need a trophy cabinet soon.